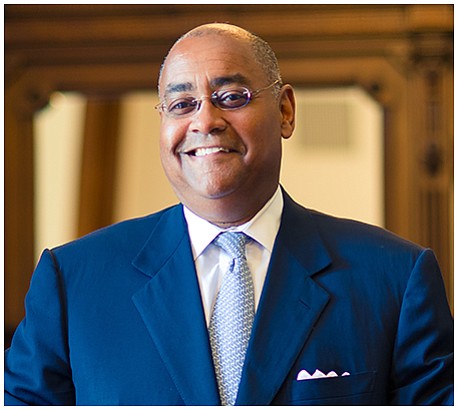 Commissioner Rodney Ellis
Stories this photo appears in:

Partnership between county and labor-managed apprenticeship programs will train workers and create career pipelines that connect people to in-demand jobs that offer strong wages and benefits
Harris County Commissioner Rodney Ellis on Tuesday applauded Commissioners Court's unanimous approval of a labor-managed apprenticeship program as part of the County's broader Apprenticeship Advantage initiative funded by the American Rescue Plan Act (ARPA).

Derek Chauvin, the former Minneapolis police officer who killed George Floyd, has been declared guilty. The job of this jury is done. But, the job of those who seek justice is not.

Items Include Three Budget Reallocation Measures, Independent Oversight Board and Expansion of Public Defender Office to Help End the Mass Incarceration of Communities of Color

There is a long history of voting rights inequality and blatant voter suppression in Texas. From the number of polling locations available in low-income communities to poll taxes to voter intimidation tactics focused on communities of color, we have had to fight to perform our constitutional duty to cast ballots.

Earlier this week, the Ardmore Street bridge was closed for reconstruction by Harris County Flood Control District as part of Project Brays, which is the largest, most significant flood risk reduction initiative ever to be managed by Harris County. However, many residents in the surrounding neighborhoods were unaware of the closure, causing significant traffic delays and confusion.

Harris County Commissioner Rodney Ellis on Thursday applauded Metro board's vote to issue a request for proposal to conduct a disparity study, the first step necessary for the transit agency to create a minority- and women-owned business enterprise (MWBE) program.

Harris County Commissioner Rodney Ellis, NAACP Houston Branch President Dr. James Douglas, LULAC District Director Alfonso Maldonado, and Lee Vela, Vice President of Public Affairs at Clear Channel Outdoor will launch a public service campaign, using 20 billboards, to encourage voter registration and electoral participation.

Attorney Reginald J. Fox Takes Bench Vacated by Hilary Green
At the request of Harris County Commissioner Rodney Ellis, Commissioners Court on Tuesday appointed Reginald J. Fox – a local attorney – to serve temporarily as Justice of the Peace, Precinct 7, Place 1. Hilary Green resigned the position in March after 10 years on the bench.

Harris County Commissioner Rodney Ellis on Tuesday asked his colleagues to call for a $2.5 billion bond election to appropriately and equitably address flood control issues, including much-needed projects in low-income neighborhoods devastated by Hurricane Harvey.

"Be The Solution: Senior Citizens Town Hall" will empower Houston senior citizens with a dialogue about the issues that impact their neighborhoods and lives. The Town Hall event will provide seniors with a forum to let their voices be heard, get their questions answered about the issues impacting their neighborhoods, and empower them to "be the solution" in their communities.

Precinct One Commissioner Rodney Ellis on Tuesday asked Harris County to join other Texas counties and cities in a lawsuit challenging Senate Bill 4, the "show-me-your-papers" legislation, but the other Commissioners declined to get involved in the legal challenge. During the regular Commissioners Court meeting, Commissioner Ellis made a motion asking Harris County to join the lawsuit, but there was no second to it, meaning no vote was taken on the agenda item.