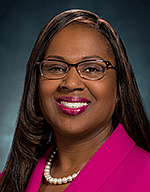 Dr. Grenita Lathan
Stories this photo appears in:

No surprises were made by the way the Houston ISD School Board voted 6-3 to decline interim superintendent Dr. Grenita Lathan the permanent job to run the largest district in Texas.

The Houston Independent School District will receive $1 million from the Moody Foundation to help close the digital divide by purchasing computers for HISD's Achieve 180 students on some of the district's underperforming campuses.

All students to return to school virtually for six weeks; families may choose all-virtual learning
With the health and safety of students, families, and staff as the top priority, all HISD students will begin the 2020-2021 school year virtually on Tuesday, September 8, 2020. Virtual instruction for all students will continue for six weeks through Friday, October 16.

Inspiring Dialogue Through Online Social Movement
Less than a year ago, 60 ninth- and 10th-grade boys walked across Worthing High School's cafeteria stage, signifying their acceptance into the inaugural class of HISD's Miles Ahead Scholars (MAS) program.

The Houston Independent School District is temporarily closing most Curbside Summer Meals sites beginning Friday, July 3, due to guidance from public health officials and rising numbers of COVID-19 cases throughout the city.

The curbside summer meals site at Chavez High School is temporarily closed for cleaning and sanitization due to a possible case of the COVID-19 virus.

We have officially reached the end of the 2019-2020 school year! Each of you played an es- sential role in the education of our children this year. As educators, we often say, "It takes a village." This mindset has never been more critical than now.

We have officially reached the end of the 2019-2020 school year!

The Houston Independent School District community is deeply saddened by the tragic and unconscionable loss of former HISD student George Floyd, who attended Jack Yates High School. We send our deepest condolences to Mr. Floyd's family and friends.

Over the last few months, HISD administration has worked diligently to prepare a sound budget for the 2019-2020 school year that would provide our students with the tools they need to succeed, while keeping our district on track financially.

Power. What does it mean to have it? How would you use it? Power is more than having beefed up muscle arms of steel. Power is about making what you can't see visible. Power is being able to inspire another person through your influence.