Meet Houston's Female Power Producers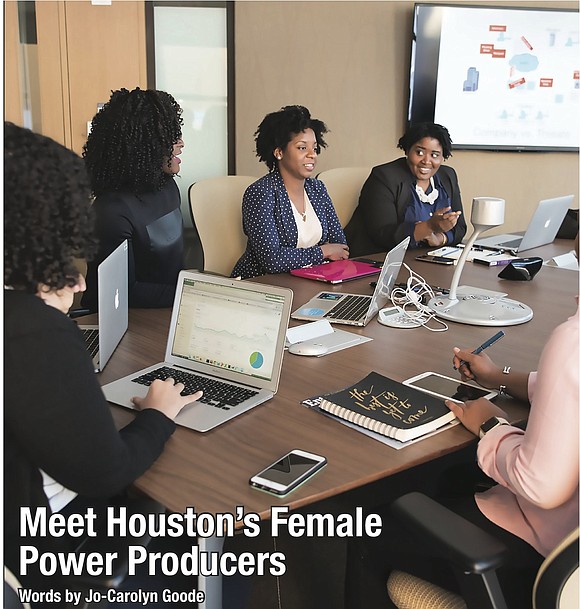 Power. What does it mean to have it? How would you use it? Power is more than having beefed up muscle arms of steel. Power is about making what you can't see visible. Power is being able to inspire another person through your influence.
Power is about changing the now and not yet. And when you have your palm on that kind of power, well, you're a woman, right?
Women hold power that can influence the present world and the world of the future through its future generations. Friends, that is long lasting power and it is the best kind. Several women in Houston have that power and it's fueling our city. With March being National Women's History Month it is the perfect time to honor women with power.
Established in 1981 first as a week by then President Jimmy Carter noting the contributions of such women as Sojourner Truth and Harriet Tubman it became a month long holiday in 1986. Houston Style Magazine dedicates this issue to recognize the accomplishments of African American women in our fair city for the things that they do now that are affecting our present and will change our future. Meet some of Houston's female power producers nominated by Houston Style readers.
Rhonda C. Arnold
Ever since 9/11, we as a country have become more and more concerned about the safety of our air. Helping in that area is the Chief Municipal Affairs Officer for the Houston Airport System Rhonda Arnold. Call her a community servant because she loves being amongst the people. Rhonda is the face of the HAS through the philanthropic work for the airport and through those she mentors. By being a role model to youth she is shaping the future of aviation thereby securing our travel for years to come.
Nakia Cooper
If you don't know her, you have read her work; trust us. Nakia Cooper has worked at almost every news station in Houston even becoming the first African American woman, to her knowledge, to manage a web department at a Houston television news station. Now she is the Media Coordinator for the 12-state Denver Region with the U.S. Census Bureau. In addition, she is the president of the Houston Association of Black Journalist. Her power is in the way she communicates. Through her words, she can control the conversation by causing you to think one way or another based on the issues at hand.
Klarke Foreman
Klarke Foreman turned her pain into praise when she started Kween to Queen, an organization geared towards combating bullying, body shaming, and promoting the self love of one's body. The organization was started by Klarke and her little sister Chandler in 2014 and has grown to also spin out a clothing line, Kween Kollection, K2Q YOUniversity, and more. Klarke grew up being bullied about everything from her hair to her dress size and she doesn't want that pain for today's girls so she flipped the script to love on herself, other millennials, and the gen z's coming behind her. Girls are lost and are crying out for help. Klarke has become that help to let them know suicide and other harmful behaviors are not the answer and that they are not alone. Her power is saving the next generation of girls from themselves.
Crystal Hadnott
This lady has so many layers that all go down the road of health and wellness. Crystal Hadnott is an avid runner that has participated in over 100 marathons and has a personal goal to run in one in every one of the 50 states. Crystal owns her own health and wellness company, Synergy Total Holistic Health and Wellness, where she helps clients with their health and wellness goals. She also worries about the next generation when it comes to childhood obesity. Her nonprofit, Pavement Princess, focuses on the wellness of girls ages 7-13. Her power lies in the wealth of the health of people. Having great health is a richness that should be cherished and empowering people to be their own health advocate is a priceless gift that can be passed on to increase longevity and a brighter, healthier future.
Winell Herron
A native of Austin, TX Herron is the Vice President of H-E-B's Public Affairs, Diversity, and Environmental Affairs throughout Texas and Mexico. She leverages H-E-B voice in the community to better address the needs of the community. This is something that is more than a professional mission for her but a personal one as well. Herron is a member and former member of several community boards. Her power lies in community impact by making the lives of families better Herron is having a direct effect on the future of society.
Teal Holden
Easily one of the most influential women in healthcare, Teal Holden is the Chief Executive Officer of Memorial Hermann Surgical Hospital Kingwood. She is responsible for the effectiveness of overall hospital operations from the physician and staff patient interactions to the management of the budget. Holden's power lies in the ability to affect the future of the health industry. With better care, we can live longer doing the things that we love.
Kristi Jackson
Everyone in America is chasing wealth whether they care to admit it. One has to in order to survive. Kristi Jackson is, directly and indirectly, changing the way that wealth is acquired through business relations with women at the head. Her company WomenCEOProject.com is a White House recognized business coaching and development company that empowers women CEOs. Her power lies in helping women get out of their own way to play with the big boys. She is helping women to not be afraid to claim their seat at the business table.

Dr. Grenita Lathan
Dr. Grenita Lathan has twenty-eight years in education and is at the helm of Houston ISD as the Interim Superintendent. Previously she was chief school officer where she led more than 20 schools out of an "improvement required" state rating to a "met standard" rating. Now having been Interim Superintendent for twelve months, Dr. Lathan continues to have Houston ISD down a successful path. In her position, she is making sure children are prepared to change the city, state, and the nation. Dr. Lathan is also a community advocate volunteering regularly with several organizations that all impact the lives of families directly and indirectly.
Kristyn Page
A New Yorker transplanted to Houston is the Vice President of Diversity and Inclusion Strategies for Macy's, Kristyn Page. She concentrates on the states of Texas and New York. Her entire job is about the inclusion of people with a high concentration for showcasing the store's diversity. And on a personal note she loves to give back to her community. Her skillfulness to be able to connect to all kinds of people makes her a power player because she can cross ethnicities for people to work together towards one of equality for all.
Dr. Ruth J. Simmons
Ruth is the truth. As the first female president of an Ivy League University, Dr. Simmons is a walking, living legend of the finest caliber. And the best part of about her is that she loves to share everything she has to offer to students to the point that she came out of retirement just to impact the students at Prairie View A&M University as their president. Any time you have your pulse on the minds of tomorrow's leaders you have ultimate power beyond measure because you will have your hand on how the future will look and run through eyes of upcoming leaders.
Mary Young
Mary Young is a history maker as the first female chief of the Texas Southern University Police Department. Protecting one person is hard but try protecting over 8,000. That is her job and she does it well. But more than a protector she is a role model for those who think the impossible is not obtainable. Mary's caring nature doesn't turn off when her siren does. She is widely known throughout the community for her charity work, especially her popular Christmas events. Her power is keeping this generation safe and equipping others to protect themselves.
Carlecia Wright
If you are in the business of doing business then you need to know Carlecia Wright. She is the business lady of the city unofficially and officially the Chief Diversity Officer and Director for the Office of Business Opportunity for the City of Houston. She makes sure everyone is given a fair shot in business by making sure they are aware of opportunities and given the chance to apply for them. This helps grow on the economy as a city so her power is extremely clear.
This is just a portion of the women pulsating power from their veins helping to shape Houston. We know there are many more. Some quietly doing their work in the background and others out there on the frontline. Wherever the needs are being met we are grateful for the women who step up and step out. Celebrate the wonderful women who are out making things happen. Let us know about them. We would love to tell their story.