Boss Kids: Mini Moguls On the Rise in Business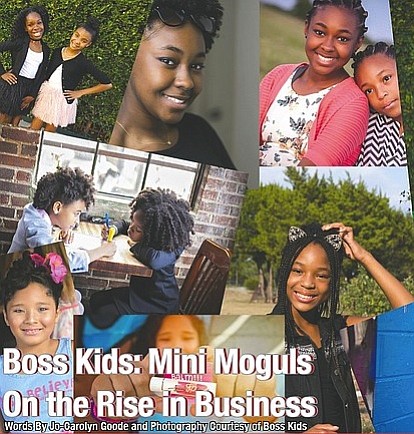 Their brand has another dynamic to it besides empowerment. Kam & Niya are also budding little chefs with their own story cookbook, "Cooking in Style." Of course, there are plenty of kid-friendly recipes but there is unique storytelling piece with stories written by the girls to promote literacy, another form of empowerment.
Though they are in the business of empowering others, Kam & Niya have to take their own advice to empower themselves. Balancing schoolwork and activities with the demands of their business can be a struggle but the support of family helps the girls push through. Being taken seriously is also another challenge the girls faced and in the beginning, they tackled by trying to sound like adults. However, they learned to stop trying to be someone that they were not and stay true to themselves by speaking from a kid's perspective. This is still their ongoing message as they continue to book speaking engagement to empower children to follow their own dreams, develop signature events, and grow their product line. Follow their evolving children's empowerment network at kamandniya.com.
Kam & Niya
IG: kamandniya
Kamryn Johnson
Saniya Symone
Journie Bell – Jewel Box By Journie
Seven-year-old Journie Bell is new to the business world but growing fast in popularity. In the beginning, Journie's focus was only on the business of herself as an actress, model, and dancer. Doing that, however, did not fulfill her desire of wanting to give back. In April of this year, she added business owner to her resume with the launch of Jewel Box by Journie B. Selling bracelets, lip balm, and tanks, Journie uses the tagline "Just Believe" to encourage others to believe in themselves to accomplish anything that they set their mind to do, just as she has.
Journie credits her success thus far to her supportive family and her sheer drive to be the best at all she does. Her best advice to future kid bosses is to surround yourself with liked minds and just go for it. "Some days will be harder than other days and you have to stay consistent and positive," said Bell.
Products of Jewel Box by Journie B are being sold at her grandmother's boutique, My Boutique by Carol and her website, JournieBell.com. She also has had some success at pop up shops and plans to continue to develop more opportunities like that. As she continues to work, Journie will stay positive, block out negativity and remain humble.
Find out more about the Jewel Box By Journie
Website: http://www.JournieBell.com
Facebook: http://www.facebook.com/princessjournieb
Twitter: http://www.twitter.com/JournieBell
Instagram: http://www.instagram.com/princessjourbieb
With all of these kid bosses, there were several constant messages for their success – supportive families, the belief in themselves, and having a positive attitude. Keep these elements close and you too could be a boss kid.