Houston Black Heritage Fest: A Celebration of Music, Art, and Food
With less than a month since Hurricane Harvey, the 3rd annual Houston Black Heritage Fest was definitely one to remember and the perfect way to bring the joy back to our community. With music, art, and great food this event was one where people of all ages came out and was able to have a great time.
The festival showcased different black-owned vendors who were able to sell and market their businesses as well as give back to the community.
"This is historic. It's like a mix of a marketing experience as well as being a part of something that's great within our community," said Brandy Hinds, Owner of Consuela's Kitchen.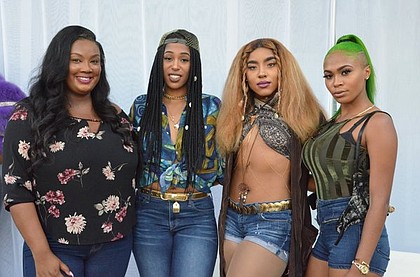 Kicking off with the Interactive Youth Zone portion of the festival, kids of all ages were entertained with games and activities. "I love that they had this for our kids, they have been through so much lately and this is just what they needed to be a kid again," said Courtney Jones.
On the main stage, local black artists were able to highlight their craft with music, poetry, and even fashion.
The Gospel Celebration proved to be a fan favorite of the night and had everyone on their feet, which showed how strong the faith within our community is. Following the Gospel Celebration, local boutique owners came together to put on a mass fashion show to showcase their businesses and designs with models of all shapes and sizes.
Aside from outstanding talent, the night also honored a few men and women doing amazing things in our community. Willard Jackson, Darian Ward, Velma Trayham, Larry Johnson, Percy Creuzot, Daryl King, Isiah Carey, and Larry Green were among those being spotlighted.
"People have been so victimized here in Houston as a result of the hurricane and some of the issues that are going on here in the country. They need a chance to release and an opportunity to just enjoy themselves and I believe this festival will give them the opportunity to do so and I'm so grateful to be a part of this," said Isiah Carey.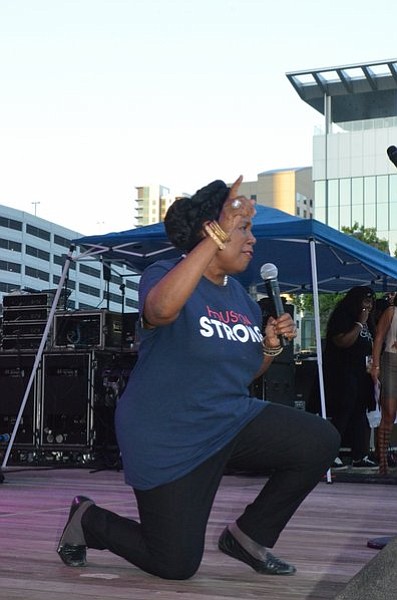 As a surprise to everyone Congresswoman Sheila Jackson Lee took to the stage to speak on the strength of our community and the city of Houston while wearing a #HoustonStrong t-shirt. As if her amazing message wasn't enough to leave the crowd with, she took a huge leap when she ended her speech by kneeling on one knee to show her support with NFL players and to influence unity.
With everyone energized and in great spirits from Congresswoman Lee's speech, vocal powerhouse Elle Varner kept the energy going as she got the crowd moving to her music and singing the lyrics. Her warmth was greatly portrayed on stage and she even allowed kids on stage with her to dance to her hit "Don't Wanna Dance." Varner hinted at the prospect of new music on the horizon very soon. With that announcement and her amazing performance, Varner left the crowd craving for more of her music but the night was far from over. R&B legend Eric Benet would command the stage taking fans back in time to the era of 90s soul. Still looking the same 20 years later, Benet and his music was certainly a treat. To keep the smooth R&B feel going, Tamia came out and was the perfect icing on the cake. She performed such hits as Officially Missing You, So Into You, and even brought Eric Benet back out to sing Spend My Life With You.
Overall the Houston Black Heritage Fest was an amazing event and is just showed that each year they aim to get bigger and better. Keep up with upcoming events and find out information on next year's Houston Black Heritage Fest by visiting www.houstonblackheritagefest.com.