Good Competition: Astros defeat the Indians behind a dominant pitching performance from Gerrit Cole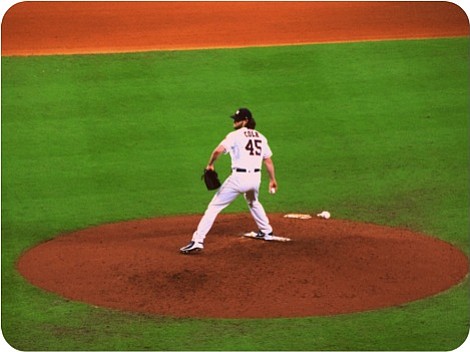 If you grew up in a house with siblings who played sports, you are very familiar with the competition. Back in 1982, former NBA player Reggie Miller came home from a high school game excited and elated about the 39 points he scored in his basketball game. Now for any other family that would have been great, but not for a family that contained future NCAA champion in women's basketball, Cheryl Miller.
"How many did you get today, Cheryl," Reggie asked.
Cheryl responded with, "A lot, Reggie."
"How many? Forty? Fifty," Reggie asked with a puzzled look on his face because he knew his 39 points was very good for one game.
"A hundred and five," Cheryl said with a big smile on her face as she watched her brother's body deflate with disappointment.
I imagine that's what pitcher Justin Verlander, after only allowing 2 runs on 2 hits in 5 innings with 7 strikeouts in Game 1 of the ALDS must have been thinking as he looked out and watched Game 2 winner Gerrit Cole pitch a dominating seven innings of one run ball against the Cleveland Indians. The Astros defeated the Indians 3-1, to take a 2-0 series lead as they head to Cleveland for Game 3 & 4 (if needed). Today's win marks the 4th time in Astros history that they have gotten out to a 2-0 series lead in the postseason.
Cole was amazing in the victory today. He became only the second pitcher in MLB history to record 12 plus strikeouts (a postseason career-high in a single game) and no walks. That puts him right behind only Tom Seaver who struck out 13 with no walks in Game 1 of the 1973 NLCS.
"I was pretty thrilled with the no walks; free base runners are kind of hard to deal with in the postseason at times. Maldonado was just throwing down the right signs and I was pounding the strike zone," Cole said in the post-game press conference about his pitching performance today. When asked about the history making performance again, he responded with, "It's cool."
Skipper A.J. Hinch has almost run out of things to say when it comes to his dynamic starting pitching staff. He has been witness to his two aces (Verlander, Cole) only allowing 3 runs and 6 combined hits in the last two games. The 'Dynamic Duo" has stymied the bats of the AL Central champion Indians by holding them to 6 for 60 at the plate, which is a batting average of a measly .100.
"Cole dominated the game and he is focused. I said this about Verlander. It's like copy and paste when it comes to those two. He made a mistake and learned from it with the Lindor homer. I loved the emotion from the mound when he is getting big strikeout after big strikeout, he was creative. What more can I say," Hinch said.
The Astros bats came alive in the bottom of the sixth inning when switch hitting utility player Marwin Gonzalez, who has played 5 different positions this year for Houston came to the plate with two men on base. Some players would fold under the pressure, but not Marwin who is batting .714 in 7 at bats in the 2018 ALDS. He hit a double to drive in baserunners Jose Altuve and Alex Bregman which put the Astros up 2-1. Gonzalez finished the day by going a perfect 4 for 4 at the plate.