AboutThatCar.com: 2019 Volvo XC40 FWD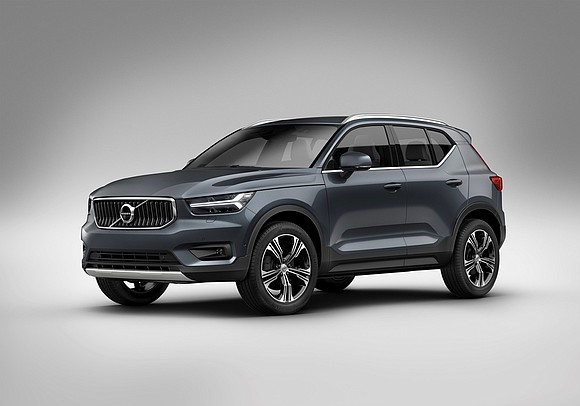 If it looks like a Volvo, rides like a Volvo and feels like a Volvo, then, hey, it is a Volvo.
That came to mind during our test drive of the 2019Volvo XC40 T4. This particular Volvo had a sticker that was just shy of $38,000. In a world where you get less and pay more, that is a bargain for a luxury automobile.
At that price, we think this Volvo may be the most cost efficient vehicle in the lineup, thus far. That means it is the cheapest. But beside the word there is nothing cheap about the XC40.
It looked like a Volvo with the Thor's hammer daytime running lights, the Iron Mark grille which was concaved on the XC40, a bunch of vibrant colors to attract the younger buyer, a color contrast roof on some models, that means two toned, large 18-inch wheels, obviously large clad covered wheel arches and an 8.3 inch ride height which bolstered a feeling of security.
Every time we got out of the test vehicle we were always a little startled by how far our foot went down before it touched the ground. We never felt like we had to step up to get into the XC40 but we had to step down a little to exit.
There was a semi-smart key. There was no push button or haptic lock or unlock on the doors but there was push button start stop. We had the T4 front-wheel-drive model.
That meant a smaller turbocharger than on the T5. It also meant the four-cylinder engine generated 187 horsepower and a healthy 221 pound-feet of torque. But the torque kicked in at 4,000 rpm. We wish that number was lower by say half to give the Volvo XC40 T4 a little more oomph. Still, this test vehicle did move smartly enough to get it or keep it out of harm's way. It never seemed underpowered.
The XC40 had an eight-speed automatic transmission with manual shift capability and four drive modes: comfort, individual, dynamic and eco. We noted that in eco the stop start function could not be turned off. It could in the other drive modes.
The combination no doubt was an integral part in the XC40s fuel rating. It got 23 mpg in the city, 33 mpg on the highway and 27 mpg combined.
A designer once told us that luxury is conveyed in the interior of a vehicle. And Volvo has done that with the XC40 T4. The automaker didn't scrimp on the crossover's material or trim. Those were Volvo seats we sat in, the controls were the same as in other much more expensive Volvos and the layout was exactly the same. The XC40 T4 was a small luxury crossover.
Yes, there were areas where some creature comforts were missing but the basics were there. Only the driver's seat was power, 8-way with lumbar support. But the fully automatic power windows all round remained. There were fixed LED headlights rather than adaptable. And there was no moonroof.