Bible Verse Helps Texans Wide Receiver Brandin Cooks Drown Out All Of the Outside Noise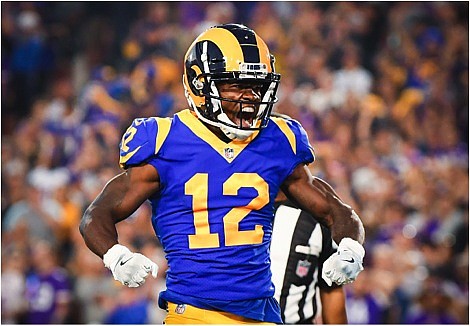 Houston Texans wide receiver Brandin Cooks wants the fans to know that he is not trying to replace former All-Pro wide receiver, DeAndre Hopkins. During a Zoom conference call with the media on Thursday, the former Los Angeles Rams wideout addressed that very issue.
"First and foremost, I think just in general as far as specifics of being brought in for a guy like DeAndre Hopkins or anything like that, I wouldn't necessarily say that," said Cooks. "You're talking about a great player that's played a lot of great football in his years as a Texan. I'm just looking at it from the standpoint to just come in and help the team win as best as I can, so that's the way that I look at it."
Cooks came to the Texans via trade last month after the organization sent Hopkins to Arizona for running back David Johnson and trade picks. Some may look at his production as being slightly off last year (583 yards receiving, 2 touchdowns) based on his 2018 stats (1,204 yards receiving, 5 touchdowns) where he helped lead the Rams to a Super Bowl berth against the New England Patriots.
"I think there were a lot of nuances that was going on last year," he said. "Not just for me but from a team standpoint. We had a lot going on and at the end of the day I dealt with some things on the field, but that does not go to show what type of player I am, the production I've been putting in year in and year out since I've been in the league. That was just one of those off years, but it comes with the game. That definitely is not the trend that you should be looking for from me as a player.
The former first round pick by the New Orleans Saints in the 2014 NFL Draft has been traded three times in his career (New Orleans, New England, Los Angeles), but that does not discourage him in anyway. Cooks feels that he will be a great addition to a team that has a lot of team speed on it already in wideouts such as Will Fuller and Kenny Stills. He is also a player who has been in the league long enough to know what it takes to be successful on and off the field.
"First off, there's a lot of speed on this offense already," said Cooks who is a threat to go deep on any given play. "Usually I can say that, but you've got guys that are able to blow the top off from every single position in this offense. I think from a bigger standpoint, just a leadership role, just the way that I go about the game and my process, just being a veteran voice in that room with the special guys that are all the way around."
Cooks is a man with a strong belief and faith in God which has garnered him the nickname, "The Archer." He takes great pride in having the name because of its origin and meaning.
"My favorite bible verse is Psalm 144:6 'Send forth lightning and scatter the enemy. Shoot your arrows and rout them'" he said. "So, for me it's another way to glorify God, go out there and play, and just come up with a unique way to glorify him."